SPENDO with Texas Major
November 4
at
7:00 pm
–
11:00 pm
PDT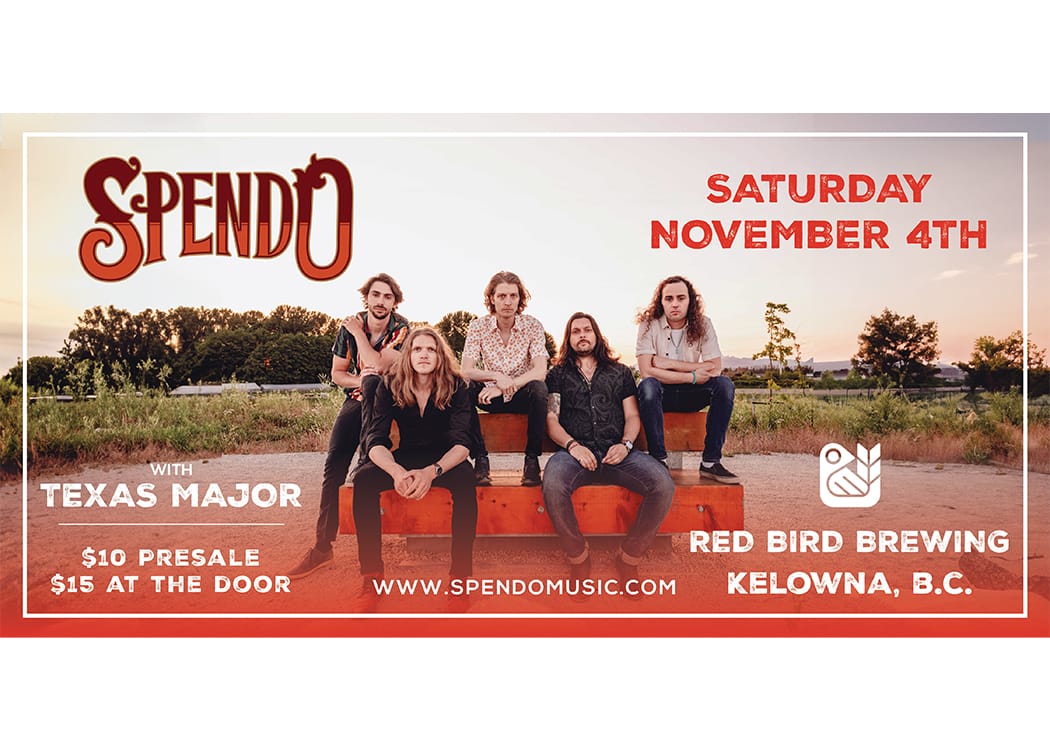 This event is held indoors.
SPENDO makes their return to Kelowna. Come witness the award winning, 2023 Rock The Lake artists up close on Nov 4th at Red Bird Brewing.

Based out of Vancouver BC, SPENDO is made up of five like-hearted, experienced multi-instrumentalists. Sharing a love for modern & classic rock, they exude a 1970's California vibe, drawing inspiration from and paying respect to the music of that timeless era.
In 2022, SPENDO ventured into "The Great Unknown", turning heads with their well-received single "Fighter," followed recently by their second single "Easy to Lie", both of which were recorded with legendary Canadian producer Danny Craig (Default, One Bad Son) who also produced their second EP "The Great Unknown" released March 11th 2023.
The band's powerful live performance has led them to many sold out hometown shows. They've also landed on some big stages, rubbing elbows with Canadian Rock Royalty (PRISM, 54-40, Daniel Wesley, Jesse Roper, Hotel Mira, Finger Eleven). They were also crowned "Best In Vancouver" 2022 in Live Acts Canada's annual battle of the bands. These five fine gentlemen have been itching to show the world what they're capable of, and their long and fruitful journey is only just beginning.
Texas Major:
Two hired guns holstered side by side to Jesse James blow your socks off! Texas Major was initially conceived as a back burner Rock & Roll project charting away from the sounds of ol' Dixie and re-emerging into the 'Houses of the Holy'. Twisting sounds between the likes of Royal Blood and The Marcus King Band, they form a full stage sound as a two piece Riff Rock band. Charming guitar riffs heavily dosed with big 'Bonzo' drums. This music is bound to make you dance, cry, or get the heck outta the way! Catch Texas Major while there's still bullets in the chamber!