Boy Golden with Kris Ulrich & Fontine
October 15
at
6:00 pm
–
9:00 pm
PDT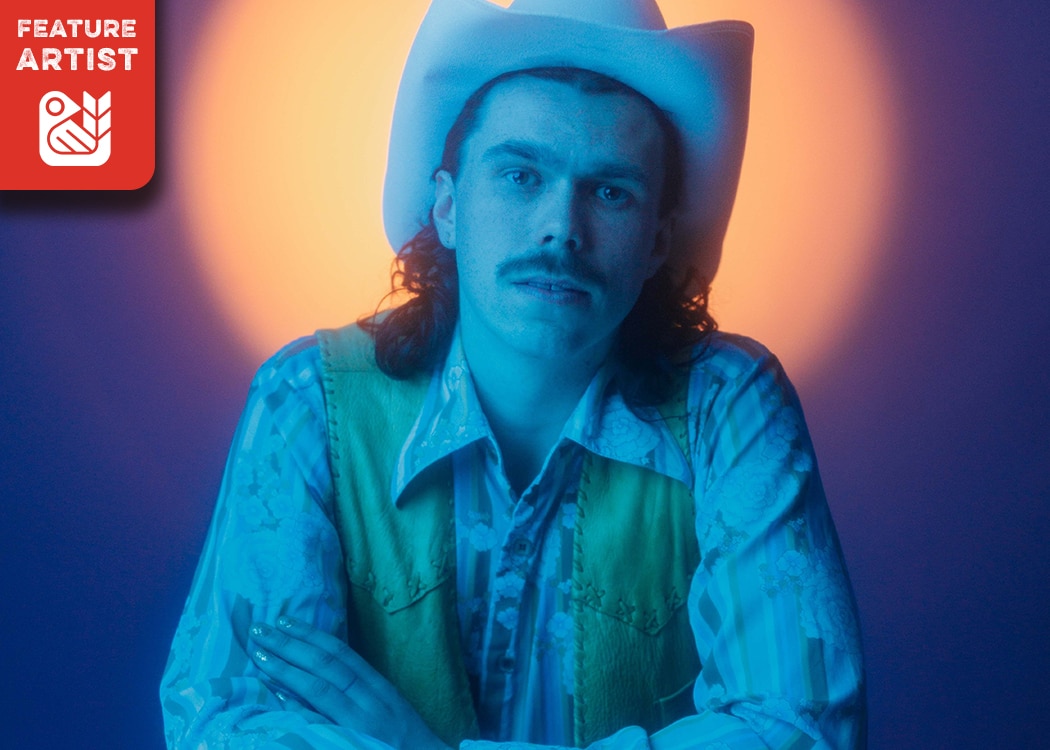 Everything becomes fluid when you can pass through time and space like a ghost, a story, a melody. Boy Golden manifests all three on For Jimmy.

When listening to his music, it feels easy to dissolve into the ether. Everything flows. From classic country to psych-folk, Alternative to roadhouse pop to Appalaichan bluegrass, Boy Golden's music is easy, breezy, warm and gritty. And don't it just feel good to listen to it.

Since releasing his debut album, Church of Better Daze, in 2021, he's played every summer festival on your list, produced X albums with friends, released a dozen videos, curated and directed an art show and music video for "KD & Lunchmeat", the Seth-Rogenesque hit single that charted to #1 on Alternative Radio, and toured with The Sheepdogs on XX date North American tour.

Introspective and vulnerable, traditional and queer, hard-headed and sensual, Boy Golden's everyman-aesthetic can appeal to all of us. This ability lies in his songwriting: the songs your friends tell you about, the stories you hear from your neighbours, your community. He's comfortable both in the spotlight and just outside it, sharing the moments with other artists, lifting others up along with him. He's a genuine student of Townes Van Zandt and Willie Nelson as much as Dwight Yoakam and Stevie Ray Vaughan . Plus his C.O.B.D philosophy, "You can blaze and still get paid" might help us all to blur borders and old definitions of genres we thought we knew, like Steve Lacy or Justin Vernon do for Pop music.
Boy Golden is able to maintain his own unique blend of Boy Golden using whatever frame of mind he's in to fit us into this time. We're here right now.
A hush sweeps across Turtle Island. Birds flock to perch on towering maples and the waving prairie grasses still. There is a name upon the tongue of every creature from the elk to the shrew. FONTINE. A gust of wind blows open the shutters of every home and young and old kneel in reverence to the dawn of a new era. FONTINE. Queen of the road, King of the song, FONTINE is here with a brand new EP.
Co-produced with Kris Ulrich and mixed by Boy Golden, the Yarrow Lover EP is set to be released in 2023. Taking inspiration from her Nehiyaw Iskwew roots, the natural surroundings of her prairie home, and her musical surroundings in Winnipeg, the EP presents as a beautiful introduction to a powerhouse songwriter and vocalist.
Instagram: https://www.instagram.com/fontinemusic/
Facebook: https://www.facebook.com/fontinemusic/
Bandcamp: https://fontine.bandcamp.com/releases
Spotify: https://open.spotify.com/artist/4uFbZzF7cNxNcxIQdF1BWy?si=7KeZUBWRQtq6Z54hFTA6SA
Apple Music: https://music.apple.com/ca/artist/fontine/410972140
Soundcloud: https://soundcloud.com/user-725786489
An incredible producer, musician, co-writer, road warrior, and friend, Kris is connective tissue in his community. A Daniel Lanois-esque man of many talents, his sonic fingerprint can be heard throughout a powerful musical movement happening in the middle of Canada and beyond. He's has his hand in projects by Boy Golden, Field Guide, Cassidy Mann, Roman Clarke, Fontine, Dweller and more. Out of these collaborations with a fertile collection of creators, he's found a new sonic voice for himself.
Kris' new songs are built with a new sonic palette: production and songwriting built on driving drum machines, woozy synth layers, dogged hooks, and a clear lyrical voice. The songs are both hopeful and melancholic, simultaneously holding reflections of a dusty past played on old tape machines and the surging brightness of future possibility – all while sewn together with a tongue-in-cheek self-awareness. It harkens back to sounds from the late 2000s (see: Kings of Leon, The Stills, Wilco) and touches on newer folks like Ethan Gruska, Sam Evian and The War on Drugs. His past releases have been radio favourites and these new songs will be no different.